I really have a ton of projects that need to be done by Christmas, but I couldn't resist joining in with Lynne's latest QAL.
The Dead Simple QAL is all about the palette. Try a color combination outside of your usual. Some folks found their palette at
Design Seeds
. I was hesitant at first because I thought it was a solids project and as much as I like solids, I didn't want to do a completely solids project right now. Then I saw that people were using prints as well. Heck, I needed a good fall wall hanging. My living room is blue and brown, but I wanted to incorporate fall colors, orange and greens. I couldn't find a palette that had all the colors I wanted, so surprise, surprise I made my own. I did what I usually do and found a fabric I liked that had all my colors and worked from there.
This is my inspiration fabric, Remix.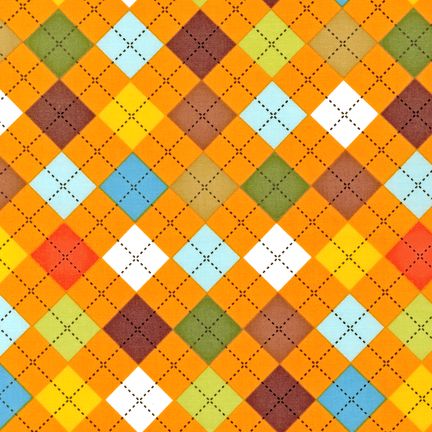 I spent a lot of time working out the correct kona solids, but then I realized I could use prints too. I went to
Hawthorne Threads
, who have a color grid that you can use to search their inventory. It's the best idea ever. I don't know why more places don't do it. It gives you a reliable way of judging the color of fabrics on line. I started adding fabrics to my shopping cart and I realized, "hey, I think I have some of that already...and that one... and that one... Crap! I already own every single fabric I need for this project." I might even have had multiple cuts of a few of them. (Hangs head in shame)
So here is my selection.
I'm not totally sure about my yellow and my tan. I included two possibilities for each. I want this to read orange and brown with pops of green and blue, so I might adjust the concentrations as I'm working. I'm aiming for a wall hanging so I'm not going to follow the sizes Lynne gives directions for. I'm also not totally sure about the white. I can't decide if I want to do charm squares or 2.5 inch squares. I'm thinking 3 feet by 4 feet, so 2.5 inches square would be doable. I can always cut charm squares and then cut them into little squares if I need the challenge.
I love picking fabrics.